PlaylistKING

®



THE WORLD'S BEST MUSIC RECOMMENDATIONS PLATFORM



Unique, accurate metadata from human experts - not unreliable machine learnt data

Advanced AI leveraging human experience and insight

Fast, precise and focused results through our APIs or web products

The only system that tags music quality and emotive features as data points
Helping You Build The World's Best Playlists
Humans With Technology




PlaylistKING® by Mylou Matrix™ is a ground-breaking b2b music recommendations platform that leverages our proprietary human-curated music dataset to deliver high quality results at speed.




We set the quality bar much higher and uniquely profile tracks based on critical criteria defined and evaluated by our own global team of record producers and musicologists. From obvious hits to diamonds in the rough, we are continually enhancing the catalogue with tracks from the past 100 years as well as the most recent releases, satisfying both the lean back and lean forward listener.




Our technology and algorithms utilise this powerful track dataset to deliver impressive and differentiated playlist and recommendation products through our web or API solutions.
Bringing Human Emotion Into Algorithmic Playlisting
Our Unique Playlist Solutions
Our proprietary metadata and recommendation algorithms deliver quality and accuracy every time
Bespoke Playlists at the touch of a button
Seed Track Recommendations from millions of potential tracks
Seed Artist Recommendations from artists across the globe
Local Relevance settings to ensure quality for every major market
Playlist Assimilation to import and improve your existing playlists
Auto Refresh to schedule brand new playlists as often as you desire
Playlist Management for Content Owners creating and publishing playlists based on your own repertoire
PlaylistKING can be accessed via our Pro or Lite Web Apps or direct from our REST API, and is compatible with the leading digital music providers including Spotify, YouTube, Apple Music, Napster and Deezer. We are also an official network partner of 7digital.
Unique Playlist Solutions With Instant Results
Our New Release Recommendations



Recommendations That Provide Real Differentiation From Your Competitors
Use Cases
High quality, emotionally impactful playlist solutions for the fitness, automotive, smart speaker, virtual assistant, retail, hospitality, repertoire owners and digital music services markets. Our products are available as white label solutions or fully integrated with your back end.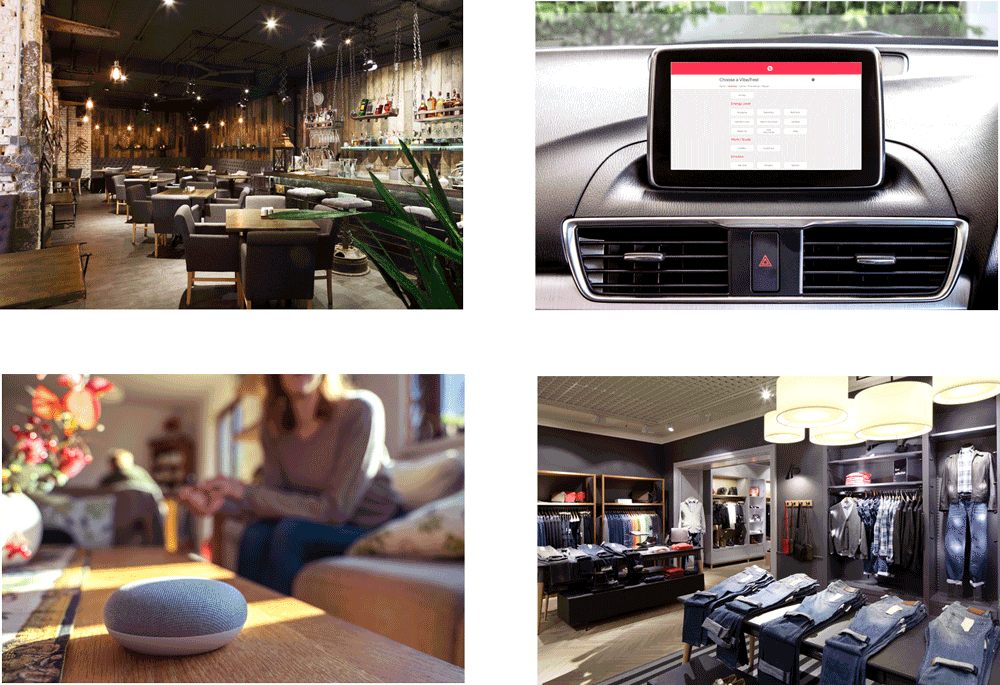 A Global Dataset Powered By Local Expertise
Driving Sales With Better Playlists

We commissioned an independent study into the impact of in-store music at Nijhof's 20,000m2 homeware store in the Netherlands.


The study compared PlaylistKING's music selection against another leading commercial music provider over a number of weeks.


"Sales increased by 8.2% when Nijhof used PlaylistKING playlists compared to the existing solution." - Patrick de Lange, CEO at Sound




Sound also observed a marked increase in the Net Promoter Score for Returning Customers, implying that their most loyal visitors were even more likely to recommend the store to others.
Products To Support Curators, Or To Fully Automate Playlisting On The Fly
About Us

We are a small but intrepid global team of 40 including music producers, radio producers, PhD musicologists, music professors, product developers, system engineers and our commercial team.

Record producer and label owner Chris Allison is the CEO and founder. Chris has worked on multiple GRAMMY® award winning and nominated albums. He draws on decades of experience producing music in the UK, US and Latin America working with artists as diverse as Coldplay, The Beta Band, KINKY, Emmanuel Jal and Walter Becker.
We've Put A Heart Into The AI Music Machine
What Others Are Saying...
---
"I think the tracks in the playlist were really excellent. Congrats on a great product...so glad you are obsessed with great product!"
---
"We love that PlaylistKING is the combination of human musical knowledge and judgment with Artificial Intelligence. It creates a much more compelling combination of popular tracks, new releases and diamonds in the rough – from all corners of the globe"



---
"Without doubt one of the biggest challenges in expanding the appeal of digital music services to the "mass" audience is getting curation right.

To date, the solutions provided by technology have just not produced anything close to the results needed because the level of artificial intelligence required in compiling lists of musical choices is well beyond current science.

Mylou Matrix seeks to answer this problem using a hybrid of human expertise and computing power and, for me, creates a far more compelling playlist solution than anything I have seen to date."
---
"I've seen and heard many music recommendation systems over the last decade but this is the first that has truly impressed me. Chris Allison's musical talent and experience from years spent in the studio with the likes of Coldplay and The Beta Band shines through Mylou Matrix.

In a world of algorithms and artificial intelligence, the team at Mylou has understood that music appreciation is a very human trait and they have blended the best of human experience with the latest technology.

This could well be set to revolutionize the way we discover, consume and listen to music."
---
"With all the talk of robots and AI replacing human workers, I thought my job as a radio producer/music curator might be fairly safe.

As a lifelong music obsessive, with two well-used ears and a well developed sense of musical snobbery, I assumed there's no way a computer could replace me.

Well, it looks like Mylou could well do that. Its song choices and musical savvy is, quite frankly, uncanny. I'll get my coat. "
---
"PlaylistKING adds value and offers opportunities to really put playlist generators on the map especially with baby boomers. It's cool! It gives me plenty of inspiration!"
---
"The first playlists that were created provided definitely inspiration and music also of a very good quality. I already saw a few songs that I had forgotten about."
---
"PlaylistKING feels more personal. Output is very different, (than Spotify)."
---
"Corporates are always struggling with their 'sound', for example when they have to choose what kind of music has to support their brand movie. PlaylistKING is seamless and easy to integrate. Technically smooth, has potential like artists are linked to brands."
---
"I havebeen testing the PlaylistKING Voice app again today and wow I love it! I gave it various different commands and I was able to curate a fair amount of playlists!

I told it to play some movie music and it did just that, I told it to play songs from different years and decades and it did just that and I even asked it to create a festive playlist and it did that too so the results were very satisfying and I liked the speed at which it created playlists too!

I also like that PlaylistKING Voice works with Spotify therefore the playlists appear in your 'recently played' list so you have them to go back and listen to! "
---
""Overall, it's really simple to use and I'm impressed. Definite value. Overall it's very intuitive and easy to use the software - especially in 'Quick Build Playlist' mode. I've tried Publishing to Spotify .... OMG it's so simple! Really impressed with this!"
---
"Unique and instinctive playlist provider. User friendly and brilliant content. I've enjoyed all my PlaylistKING selections! Well researched and supported music provider. Everyone should try it!"
If you'd like to learn more about our products and services, please get in contact using the form below.