Mylou Matrix™

Mylou Matrix is a groundbreaking b2b music playlist solution.




We combine human expertise and AI power to delight your customers, increase engagement and accelerate your ROI. We set the quality bar much higher and personalize your customers' musical experience by aligning the emotion of the music with your sonic branding.
Our Unique Sonic Solutions
We have four solutions to supercharge your customer engagement and loyalty
Use Cases
High quality, emotionally impactful sonic branding, for the fitness, automotive, smart speaker, virtual assistant, retail, hospitality and digital music services markets.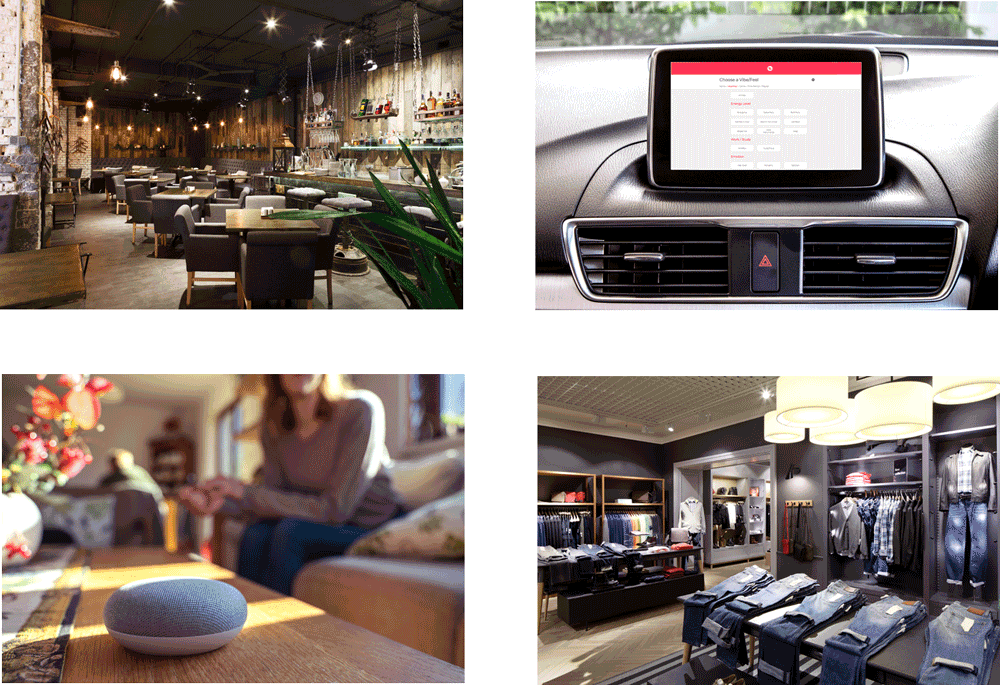 About Us

We are a small but intrepid team of 12 combining music production, product development, system engineering and commercial.

Record producer Chris Allison is the CEO and founder. Chris has worked on multiple GRAMMY® award winning and nominated albums. He draws on decades of experience producing music in the UK, US and Latin America working with artists as diverse as Coldplay, The Beta Band, KINKY and Walter Becker.
We've put a heart into the AI music machine to bring you the highest quality playlists & recommendations
What Others Are Saying...
---
"I think the tracks in the playlist were really excellent. Congrats on a great product...so glad you are obsessed with great product!"
---
"It's a 'better' product than what is already out there – radio stations doing it by hand, and Spotify etc using recommendations based on similar subscriber listening habits.

Chris is ahead of the game, through his hard work, and someone big will do this eventually"
---
"Without doubt one of the biggest challenges in expanding the appeal of digital music services to the "mass" audience is getting curation right.

To date, the solutions provided by technology have just not produced anything close to the results needed because the level of artificial intelligence required in compiling lists of musical choices is well beyond current science.

Mylou Matrix seeks to answer this problem using a hybrid of human expertise and computing power and, for me, creates a far more compelling playlist solution than anything I have seen to date."
---
"I've seen and heard many music recommendation systems over the last decade but this is the first that has truly impressed me. Chris Allison's musical talent and experience from years spent in the studio with the likes of Coldplay and The Beta Band shines through Mylou Matrix.

In a world of algorithms and artificial intelligence, the team at Mylou has understood that music appreciation is a very human trait and they have blended the best of human experience with the latest technology.

This could well be set to revolutionize the way we discover, consume and listen to music."
---
"With all the talk of robots and AI replacing human workers, I thought my job as a radio producer/music curator might be fairly safe.

As a lifelong music obsessive, with two well-used ears and a well developed sense of musical snobbery, I assumed there's no way a computer could replace me.

Well, it looks like Mylou could well do that. Its song choices and musical savvy is, quite frankly, uncanny. I'll get my coat. "
---
"PlaylistKING adds value and offers opportunities to really put playlist generators on the map especially with baby boomers. It's cool! It gives me plenty of inspiration!"
---
"The first playlists that were created provided definitely inspiration and music also of a very good quality. I already saw a few songs that I had forgotten about."
---
""PlaylistKING feels more personal. Output is very different, (than Spotify)."
---
"Corporates are always struggling with their "sound", for example when they have to choose what kind of music has to support their brand movie. PlaylistKING is seamless and easy to integrate. Technically smooth, has potential like artists are linked to brands."
---
"Hi👍been testing the PlaylistKING Voice app again today and wow I love it! I gave it various different commands and I was able to curate a fair amount of playlists!

I told it to play some movie music and it did just that, I told it to play songs from different years and decades and it did just that and I even asked it to create a festive playlist and it did that too so the results were very satisfying and I liked the speed at which it created playlists too!

I also like that PlaylistKING Voice works with Spotify therefore the playlists appear in your 'recently played' list so you have them to go back and listen to! "
---
""Overall, it's really simple to use and I'm impressed. Definite value. Overall it's very intuitive and easy to use the software - especially in 'Quick Build Playlist' mode. I've tried Publishing to Spotify .... OMG it's so simple! Really impressed with this!"
---
"Unique and instinctive playlist provider. User friendly and brilliant content. I've enjoyed all my PlaylistKING selections! Well researched and supported music provider. Everyone should try it!"
If you'd like to learn more about our products and services, please get in contact using the form below.